If you are curious about Tempurpedic Mattresses and what all the hype is about then you have come to the right place. We made it our mission to know as much as we can about mattresses and getting a great night's sleep. We wouldn't be much of mattress experts if we didn't do a Tempurpedic review. 
More than likely if you're on this page you have probably at least heard of Tempurpedic mattresses as they have done a great job in the marketing aspect of their brand, probably better than any other mattress company out there today.
In this Tempurpedic review, we will break down all the aspects of Tempurpedic mattresses; their history, benefits, and how they perform compared to the competition. By the end of the article, you will go away knowing just about anything you could hope for when it comes to this brand of mattresses.
The Best Tempurpedic Review of 2017
[wpsm_comparison_table id="5″ class=""]
Tempurpedic's History
We will start our Tempurpedic review off with a little bit about the company itself. Tempurpedic mattresses were first introduced to the world by the Fagerdala World Foams – a Swedish foam firm. However, it has only been around in the American market since 1992. The parent company, Tempur-Pedic International Inc has been manufacturing both mattresses and pillows from viscoelastic foam for 25 years and are now a publicly traded company. Tempur is a material that was originally developed through NASA's research. NASA aimed to create a material that provided adequate cushioning for aircraft seats and increased the chances of survival in case of an accident and they ended up with a state-of-the-art material that is safe and durable.
Tempurpedic Review: How Does It Stack Up vs Foam & Latex Mattresses
This wouldn't be a good Tempurpedic review if we didn't talk about how Tempurpedic mattresses match up against memory foam and latex mattresses, which happens to be some of the most popular mattresses on the market right now. Below we will break down how each type of mattress does in each category.
Adaptability
Tempurpedic: It is well known for conforming to the shape and weight of your body. However, unlike other materials with a similar characteristic, it resumes its precise original form night after night for years.
Memory Foam: It is a highly active material that also follows the contours of your body, but after years of constant use it can begin to sag and lose density.
Latex: It also conforms to your body like the other two. However, it also does not keep its original form after a while because it has limited elasticity since it came from a rubber tree.
Temperature Regulation
Tempurpedic: It responds to your body temperature and regulates the heat and cold creating an ideal sleep environment.
Memory Foam: On its own, it has an element of breathability. But for adequate cooling, most manufacturers tend to infuse it with a cooling gel technology.
Latex: Unfortunately, latex has a reputation for being too hot. It also utilizes cooling gel technology to regulate temperature.
Durability
Tempurpedic: This NASA creation was developed to withstand high altitudes and crashes, the material, therefore, can survive the wear and tear of sleeping bodies very well.
Memory Foam: Foam can last for quite a while if it has the right density.
Latex: Latex gives the Tempurpedic material a run for its money. It is an unyielding option which will give you service for decades, same as the Tempurpedic.
Sleep Isolation
Tempurpedic: This material keeps the motion on each side of the bed separate ensuring that your sleep remains undisturbed. It has a reputation for maintaining impeccable smart movement.
Memory Foam: Memory foam can also offer impeccable sleep isolation when properly constructed.
Latex: Latex has a reputation for excellent sleep isolation. It is considered one of the greatest smart-motion available in the market today.
Pressure Point Relief
Tempurpedic: The main reason for disturbed sleep is pain and discomfort, especially when pressure points openly press against the mattress. Since Tempurpedic conforms to your body it reduces the chances of pressure points getting exposed to mattress pinches.
Memory Foam: One of the advantages of Memory foam is its ability to relieve pressure points. It is extremely responsive because it tends to cradle your body's pressure points, alleviating the painful pressure.
Latex: Latex can be hard, especially if the mattress is an extra firm constitution. It makes it miss the mark of pressure point alleviation in some instances. It can, however, be softened with a mattress topper to meet this need.
Safety
Tempurpedic: It is resistant to microorganisms like dust mites, bugs, and other parasitic elements making it the top choice for people who suffer from allergies.
Memory Foam: Memory foam is more prone to unwanted microorganism compared to the Tempur and Latex. It is also constructed with petroleum and other chemicals which can be unsafe for people suffering from allergies.
Latex: This is considered one of the safest options in the mattress construction industry. It is hypoallergenic and resistant to dust mites, bed bugs, and the like. 
Our Tempurpedic Mattress Review of 2017
Below you will find our rankings for our Tempurpedic review and what that they have to offer on the market today. Keep in mind that all these mattresses are fantastic and top of the line, so in a way, they are all the top choice for our Tempurpedic review. For the most part, it just comes down to your personal preference when it comes to choosing the right bed. Below we will go in-depth into how Tempurpedic mattresses perform (wouldn't be much of a Tempurpedic mattress review if we didn't) and break down if they are worth the money or not.
Starting off our Tempurpedic review is the Cloud Supreme mattress and comes in as one of the most highly rated mattresses on Amazon and other online retailers. It does a great job at being both comfortable and supportive, while also helping to relieve pressure points that can cause poor sleep.
The Luxury
The most highly recommended bed in America has a plush and luxurious feel to it. It also features the extra-thick layer of the all-new Tempur-ES material. This feature allows it to conform to your body giving you the opportunity to enjoy the pillow because it is profound and extra soft. It also has a quilted top, giving it a luxurious quilted feeling making it an obvious choice for our Tempurpedic review.
The Comfort
The Tempur – ES material also comes into play with the comfort levels of this mattress. It absorbs the pressure from your body and evenly distributes it all over the mattress, so you are not confined to a sinkhole in the middle.
The mattress also features a Dual AirFlow system which allows breathability for the base layers giving the mattress a cool touch. It also reduces motion transfer which prevents you from getting disturbed if you or your partner toss or turn.
The verdict:
This product is somewhat similar to the GrandBed II with just a few additional touches. It caters your luxuriant side while without compromising comfortability.
Support and Comfort
The Support:
As the name suggests, it provides much-needed support to your back, hips, and shoulder which are pressure points for a lot of people. It allows your body weight to be evenly distributed onto it by following the contours of your body in whatever sleeping style you are in. Made from Tempur Material in Medium Firm it stays stable even after years of use.
The Comfort:
The Tempur-Pedic Double (Full) Contour Elite has comfort layers courtesy of the Tempur material. The material conforms to your body preventing contact between your pressure points and the mattress surface allowing you to enjoy a comfortable night.
It also features a stretchy cover that is made up of premium fabric. For a touch of sophistication, the gray upholstery on the side is a great addition.
The Verdict:
If you are seeking proper support for pressure point alleviation, then this is the best option. The product is also infused with just the right amount of layering to keep you comfortable.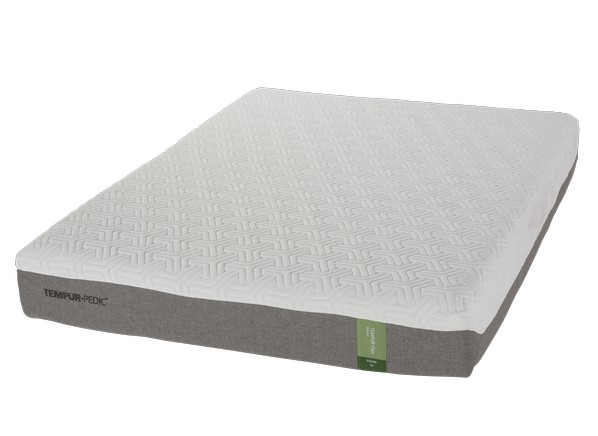 This bed is one of the best choices in our Tempurpedic review for those that are needing some support for aching backs, as it helps to keep your spine aligned correctly all night so it can help relieve pain and offer a great night's sleep as well.
The Support:
This option has a flexible level of firmness that allows the pressure points to be gently encased in its fold. The stability offers conforming back support that helps to align your spine correctly for a pain-free night devoid of tossing and turning. It is also resistant to dust mites, bugs, and other microorganisms that would ordinarily infiltrate a mattress and destroy its solid construction.
The Comfort:
The Flex Prima has a fast adapting support technology which allows it to follow your body contours. It also has a high loft super-stretch cover which adds a layer to the top of the bed.
For further comfort, it comes fitted with a base layer which controls the temperature by dispersing the body heat. It is in addition to the moisture which also aids in temperature regulation for a much cooler comfortability.
The Verdict
This mattress will hold the fort down when you need a firm support that still has a welcoming backdrop. At 133.5 pounds it is just the right density for a comfortable sink effect.
Support and Functionality
The Support:
Weighing 186.5 pounds this offering from Tempurpedic is thick and dense enough to provide more than adequate conforming back support. It has Tempur-ES and Tempur –adapt materials which determine the feel of the mattress. The two ensures the balance is struck with the mattress being comfortable but firm enough.
The Functionality:
It keeps microorganism like dust mites, bed bugs, and other parasites away. The use of Tempur-ES and Tempur –Adapt allows the mattress to cater to a wider demographic since one brings comfort and the other brings adaptability to the firm constitution of the mattress.
The Verdict:
Considering the difficulty most mattress manufacturers encounter in trying to achieve the perfect balance of function and support; the Flex Hybrid Elite King has done an excellent job of merging the two. It has a high level of firmness that has been tempered to make it functional which is why it made the top 5 on our Tempurpedic review.
The Luxury:
The features of the GrandBed II balance out well with the quality of service it provides. It is fitted with an extra thick layer of the new Tempur-HD material which is plush like a pillow. The finishing has exquisite tailoring with a quilted silk and cashmere blend cover that has diamond embossed microsuede sides. This mattress has a soft quilted feel with the backing of a firm, but lushly yielding support.
The Functionality:
The Tempur-HD material minimizes the discomfort of pressure points. It also mitigates sleep disturbance because of movements from the other side of the bed. The mattress is an allergen and dust mite resistant.
It comes with the 90-night home trial period similar with all Tempurpedic Swedish mattresses. It also has a 20-year limited warranty from the manufacturer.
The Verdict:
As the top pick in our Tempurpedic review, The GrandBed II meets both criteria satisfactorily giving you your money's worth. It is a well thought out blend of support and indulgent comfort.
Conclusion
We hope you got a lot out of our Tempurpedic review and helped you in your quest to find the mattress that is right for you. In our opinion, Tempurpedic mattresses are a great pick for your next mattress and millions of customers. If you have any questions about anything feel free to comment below and we will do our best to answer your questions.